Canterbury & District Angling Association
See here for information about fly fishing classes.
A note to all members: A marker/spod/spomb rod counts towards your rod entitlement as per rule 18i.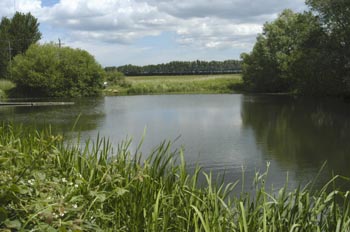 Pump House Lake is the middle sized of the three, and so named for the irrigation pump which is housed in the shed at the end of the lake, the inlet pipe runs out into the middle of the lake and can be clearly seen: beware of this man made snag when fishing the nearby swims. The lake is well stocked with Carp to 16-17lbs and Tench to 3lbs.
Only two sides of the lake are fishable, the other being tree lined, provides ideal cover for the Carp. All methods and baits will give good catches with early morning and evening being the best times.