Canterbury & District Angling Association
In order to encourage participation in closed-season work-parties and to reward those members who give up their time to complete the same, Byelaw 16e has been amended with a minor change to the wording. 'Members may not occupy swims on Association waters more than 5 hours before the start of the season except that where such members have completed three approved working parties they may occupy swims no more than 12 hours before the start of the season. Fordwich Lake will be available between 8pm on June the 15th and 8pm on June 22nd only to local members who have completed three approved working parties and will be closed to all other members during those times.
We have regained Grove Lake and members will be able to fish from 16th June 2019. The same rules and bye laws shall continue as before. A gate and fencing have been installed
--MANDATORY NOTE TO ALL ANGLERS--
Due to a local outbreak of K.H.V. no keepnets to be used on any still waters. Dip tanks are in place on all stillwaters. Nets, mats and slings MUST be dipped (FULLY immersed) for a minimum of 15 minutes. Keep nets are allowed on the River Stour (only) from the start of the river season.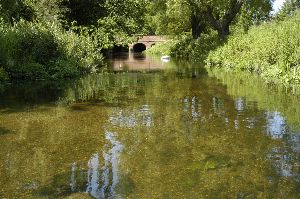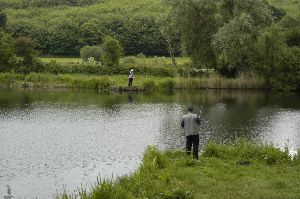 ---
Since 1928 The Association has been managing extensive fisheries in the Stour Valley below Canterbury, offering first class lake and river fishing for a variety of species. The historic and famous stretch of the River Stour, which the Association leases from the Fordwich United Charities, reaches downstream from Fordwich Bridge as far as Plucks Gutter. Fordwich trout were referred to in Izaak Waltons The Compleat Angler, their descendants are still running up the river to spawn, when the conditions are right for them.
The fisheries between Fordwich and Grove Ferry are in surroundings of great natural beauty and are part of an area designated as a Site of Special Scientific Interest (SSSI), recently upgraded to an International RAMSAR site. Fishery management in the SSSI is subject to an agreement between the Association and English Nature.
Care is needed not to interfere with wildlife or the natural vegetation. The Associations Committee takes its conservation responsibilities to protect this part of our heritage seriously and will take action against any member found to be damaging the environment.